Earrings with a Conscience?
Feb. 16, 2012, 6:54 p.m.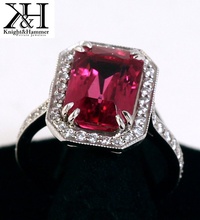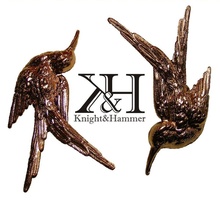 As many of you know, I have the honor of knowing (and of loving) Joseph Knight, the mastermind of Knight&Hammer, which, in a matter of two years, has become my all-time favorite jewelry line. I met Joseph in 2010, and we immediately hit it off after we decided to create The World's Most Expensive Sports Bra together (aka The Trenta Bra). This bra went viral, and from there, our desire to work together became insatiable. And, as a result, a beautiful friendship blossomed. He then designed my engagement ring, which is totally one-of-a-kind and a perfect represenation of my personality.
One of the best aspects of this collection is that each piece has a story, and as a designer, I appreciate brands that are loaded with meaning. I also have the honor of being one of Joseph's best friends, and thus, I often serve as a source of inspiration for some of his pieces. Most recently, he named a pair of earrings after me, and I must admit, I am obsessed. They are angular hummingbirds dripping in rose gold, which he calls "Kelly Rose Gold." The level of detail that has gone into this design is absolutely spectacular. What I love most about hummingbirds is what they represent--immortality, love, joy, energy and wonder. Can it get much better than that? That totally captures the ethos of BodyRock Sport.
I recently had the pleasure of wearing them on Say Yes to the Dress, and it was really awesome to have the opportunity to showcase their beauty on TV, as Knight&Hammer is a brand that commands attention. Every time I rock them, I get stopped in my tracks by admirers.
And for $240, you really can't go wrong. Get 'em here: KnightandHammerMuse.com
If you need another reason to convince yourself, these gorgeous earrings are part of Knight&Hammer's Jewelry with a Conscience initative--25% of the proceeds benefit Omaha Zoo's ABC Rainforest Conservation Project. Help us save birds!