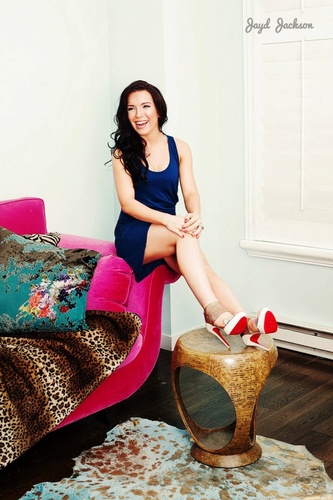 I was born in Southern California in a suburban neighborhood, and spent my entire childhood playing outside with my older brother. I may have been rolling in the mud, but I always looked fab while doing so! For years I felt an innate urge to move to The Big Apple, and after graduating from BU in 2005, my dream came true and I went to grad school at NYU.

In 2008, my New Year's Resolution was to run a marathon. I had always been active, but running was dreadful to me and I felt awkward on the treadmill. I signed up for The Walt Disney Marathon in January 2009. The day before the big day, I picked up my race bib at the expo and was in dire need of a funky sports bra that had a pocket to store my race day necessities; my ipod, money, hotel key (and motrin, if necessary).

Alas, I couldn't find anything. It was at this moment that the idea for BodyRock Sport was born. I had an awesome race day and have since become an avid runner but I didn't feel the way I wanted to feel, the surge of confidence that I experience while rocking a sexy pair of heels or a bold shade of lipstick.

As soon as I got back to the city, I went straight to work. My goal was to launch within one year. I wanted to offer women like myself -- who love both fitness and fashion -- a fabulous yet also very functional collection of sports bras that they could wear from day-to-night, that could serve as "double duty" clothing. A collection for women who like to work hard and play hard, who love to push the envelope just a lil' bit.

On January 12, 2010, BodyRockSport.com went live. My first collection was 12 pieces, all named after different women in my life who have inspired me in some way.
It has now been over three years and BodyRock Sport has completely transformed my life. I now design virtually everything under the sun!

I design for women of all ages who love being women and whose love for high fashion and innovation is equally strong. My garments have a bevy of amazing features, including inner structure for optimal support, waterproof pockets, iPod pockets, side and front zippers for easy removal, tag-less labels, a wide spectrum of gorgeous embellishments, and more.

Whether you are rocking one of my bras with a pair of stilettos or sneakers, I can guarantee that you will look and feel incredible. With BodyRock Sport, I can assure you that you can always expect the unexpected. What's next truly has not been done before.

It has been a transformative journey. Every day is completely different, and I dabble in everything. From designing diamond encrusted bras for major celebs and working with women who truly need and deserve well-made and gorgeous products, like breast cancer survivors, to developing new products and testing them out, my life revolves around BodyRock Sport 24/7/365.

The most challenging aspect of life is to find a journey worthy of your heart and soul. I have found my calling and I have never felt as empowered as I do right now, living my dream while encouraging other women to grab the bull by the horns and fulfill their wildest dreams too!

What has been most gratifying for me is the relationships I have built with my customers, many of whom have become close friends of mine. BodyRock Sport is so much more than active-wear; it's a positive attitude that pushes you to reach higher, to be empowered, to dream bigger, to be strong, to take risks, to pay it forward and to always do your best 100% of the time.

When you're happy, you glow from the inside out. I want all of you to GLOW.