A Floral Power Couple
Feb. 13, 2012, 7:58 p.m.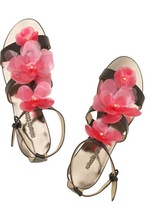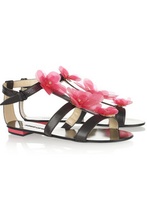 When I first decided to create The Sophie Bra, I was scared. I wasn't sure how people would respond to a floral sports bra encrusted with Swarovski crystals and studs. Believe it or not, I thought this may be a bit too much even for me. But I decided to grab the bull by the horns and went for it. I am so glad that I trusted my instinct. The Sophie Bra has become a top-seller and a staple in my wardrobe. I honestly cannot imagine life without this bra. In fact, I am wearing it as I type this. It complements so many pieces in my wardrobe--from my favorite pair of Current/Elliott jeans to my most cherished Temperley leather jacket. Girly injected with just the right amount of edginess. It's also the perfect travel piece, as I can dress it up, dress it down, zip em up and zip em down. I currently have three Sophie Bras in the rotation because I just can't get enough. Now, I have my eye on this amazing pair of Roberto Cavalli brown and pink acetate floral sandals. They are calling my name. Loudly. They'd would provide me with yet another accessory for my Sophie Bra ensemble. I haven't succumbed yet. But it's just a matter of time before I give in to the shoe demon that resides within my soul. Again. (He always wins!).
Get yours here: http://www.net-a-porter.com/product/183558