Love for Leopard
Feb. 15, 2012, 7:04 p.m.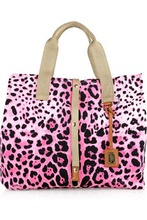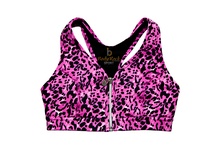 Anyone who has every walked into my apartment or taken a peek inside my closet knows that I have a deep love for leopard. In fact, in my debut collection, I designed The Jaz Bra, named after my all-time bestie Jasmine, who is now a rockstar lawyer kicking ass and taking names in San Fran. This bra was a purple and cream colored leopard print with amethyst Swarovski crystals and purple zippers. This limited edition beauty will forever hold a special place in my heart. It's crazy to think that was two years ago! While The Jaz Bra may be gone, my love for leopard remains stronger than ever.
In my second collection, we introduced two other leopard print bras, The Imani and The Elena, both of which have been a big hit, and because all of our prints are custom-made from idea inception to execution, we must always stay ahead of the game. It's important that we continue to innovate and design prints that not only accurately represent BodyRock but that also offer something completely different to our vast customer base.
So, about a year ago, we started to develop yet another leopard print, but this time in pink. It was to be called The Jamie Bra, another limited edition color way for The Zip 'em Up Collection, named after the one-and-only Jamie Eason, a Southern belle who happens to be one of my all-time favorite fitness models and who is honestly one of the sweetest and most genuine ladies I have ever met. I also decided to use this pattern for one of our debut collection of mastectomy bras called The Dot Bra, named after my great Aunt who died from breast cancer. These two bras officially came out a few weeks ago.
Around the same time, I was shopping on net-a-porter only to discover this gorgeous Dolce & Gabbana pink leopard tote bag. I recall thinking, "What's the probability of this happening? I don't recall Dolce & Gabbana calling me for a pattern brainstorm!" Excitedly, I ordered the bag and it has since become a staple in my wardrobe. As a designer, I've quickly realized the power of designer intuition. It's truly incredible. From the outside looking in, you'd think that we all get together and design together. But the truth of the matter is that we seem to be on the same page at the same time, just doing different things, but all with the same purpose: to enhance your lives and to enable you to look and feel beautiful. It is my sincere hope that every time you wear one of my bras, you feel like the best version of you. That is always the goal, each and every time we come out with a new design. Every time I rock The Jamie Bra, I feel fierce. And every time, I decide to use my Dolce & Gabbana tote bag, I feel fab. Cheers to be fab and fierce! xoKELLY