My Couture Secret...
Nov. 21, 2012, 10:26 p.m.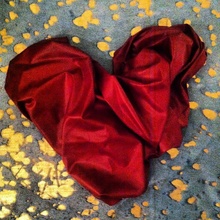 So, I know I've been driving a lot of you crazy with all of the images I have been posting with sneak peeks into the future of BodyRock. And I've done a fantastic job keeping my couture secret hidden. But I can't wait any longer.
When I first launched, I dreamed of enabling my customers to design their own couture bra, namely because BodyRock is the penultimate combination of high fashion and superb functionality. With each piece that I have designed in my four collections, I have yearned to give my customers products that are fashionable, fabulous, and functional for the gym and beyond, so that you can rock my gear in sneakers and stilettos.
When BodyRock first lauched, I started to get inquiries about custom made bras. No one knew that I was secretly plotting to make made-to-order bras a norm in an otherwise drab industry. I even made three steak bras for STK Miami to commemorate Lady Gaga's meat dress.
Why, you may ask? Because I never say no. I love the challenge of creating something completely unique, glamorous and one-of-a-kind. My creative juices flow more than ever when an opportunity of this nature comes my way.
Which is precisely why I couldn't be more ecstatic about my new venture, BodyRock Bespoke.
BESPOKE: The distinguishing points of bespoke tailoring are the buyer's total control over the fabric used, the features and fit, and the way the garment should be made. More generally, "bespoke" describes a high degree of "customization," and involvement of the end-user, in the production of the goods.
BodyRock Bespoke is a division of BodyRock Sport, and is a collection of luxurious bras that are made to our customer's specifications. Fabric options include a wide range of leather, pleather, velvet, sequins, and other rare prints. There are four silhouettes to choose from, and the options are endless when it comes to choosing trims and embellishments. You will be able to choose the zipper colors, the crystals, the piping and more. There will also be fabulous add-ons, like our custom Swarovki skulls and dumbbells, and there is even the option of monogramming. So, whether you are a sports fanatic or a fashionista doing your thang in the city, you will be able to create your dream bra. All of these bras are made in New York City and are all one-of-a-kind, made for you and designed by you with the utmost attention to detail.
This will launch on my website the first week of December. And I can't wait to see the amazing designs that you ladies come up with! Thank you for enabling me live my dream and to do what I do best....xoxKELLY