Street Chic
Feb. 14, 2012, 12:41 a.m.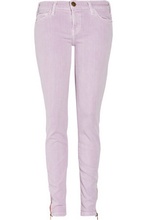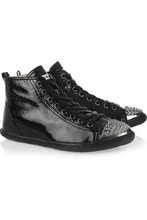 I LOVE dressing up. Sometimes, I think I was born in the wrong era solely because of my desire to doll myself up all the time. But I also LOVE mixing and matching a variety of brands, including my own. A few nights ago, my darling man and I went to a friend's birthday party in Brooklyn Heights, and being that I knew I'd be in the company of a casual crowd, I decided to opt for a trendy look rather than more a "done up" one.
Thus, I decided to combine a pair of lilac Current/Elliot Jeans with a gray ribbed tank, The Jayde Moto Jacket and my favorite Miu Miu kicks. The dazzling combination of metal, chain, studs and Swarovski certainly did the trick. Not only was I comfortable--I also felt great without being over-the-top. Sounds like a win-win to me!