December 2012: Brittany Monroe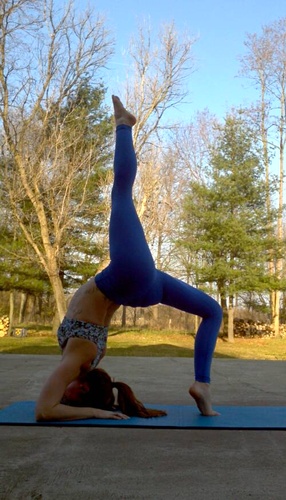 I am a stay-at-home Mom to an amazing little boy named Benson who will be two. After having my son, I fell in love with the world of fitness. I rock my body in so may different ways-- I am a runner, a yogi and a weight lifter. I work out completely from home, so I love mixing up my workout routine to stay motivated. I have come along way since I began my fitness journey and am stronger and fitter than I have ever been. The body constantly amazes me with its many capabilities.
I am a huge advocate of looking fabulous even when I work out, and BodyRock Sport defines just that. I am absolutely in love with each and every item I have received and am hooked for life.
My favorite workout would definitely have to be yoga. I have learned many amazing things about the body and its many possibilities. My absolute favorite thing about yoga is arm balances they make you feel so strong and empowered . I love pushing myself out of my comfort zone and knowing that I am inspiring other women while I do it!! I will absolutely be adding more BodyRock to my closet-Kelly is a genius!!
Here, I am wearing The Lauren Bra from The Zip 'em Up Collection--glad I got it because it's no longer available!