March 2013: Inez Sobczak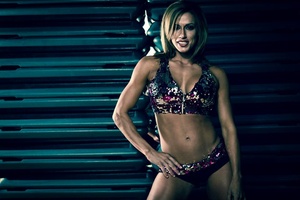 I am the founder and master trainer at Fit-Nez, www.fit-nez.com,
has over a decade of experience as an innovator in health and fitness.
What began as a passion for sports and aerobics as a child culminated
in founding of Fit-Nez, located in Arlington, Virginia.

In addition to successfully coaching Fit-Nez clients, I hold
over a dozen health, fitness, and nutritional certifications; is a
National Figure competitor; Gaspari Nutrition sponsored athlete;
Marathon Competitor; and widely recognized expert in corporate
wellness.

I am completely commitmed to living the fitness lifestyle
that I impart to my clients. "I've learned the small steps you can take
to change your lifestyle, and I communicate those lessons to my
clients. I encourage them to take their journey one day at a time."

Dress for Success: What you wear to the gym can go a long way toward
helping you stay motivated and confident and can even improve your
workout performance.

So let's look at this subject from a practical and a psychological viewpoint.

On a practical level, clothes specifically made for exercising help you perform better in comparison to street clothes for the simple reasons of regular wear being too constricting, made of non-breathable fibers, and the ever present potential of busting a seam (embarrassing).

And psychologically, you benefit from special workout gear's ability to put you in "exercise state." You put on your BodyRock gear, and you know it's time to get moving. Not to mention, putting on those couch sweats you wore for three days straight after you broke up with your last boyfriend is anenergy-zapper. Wrong clothes equal wrong attitude. Right clothes, right attitude.

BodyRock is definitely one my favorite brands for fun fitness gear! It fits great, works great, looks great.
Now, once you get your BodyRock gear on, here are some workout tips:

Workout of Choice: Shoulders! Sculpted shoulders are often one of
the most sought-after looks. Awesome shoulders can make or break a
sleeveless shirt, dress or even bikini.

In order to achieve noticeable success when trying to sculpt your
shoulders, be sure to perform exercises designed to work all
3 heads of this muscle group. In addition, eating healthy and
drinking plenty of water is essential to your success.

Here is a quick and effective workout incorporating the "drop set"
principal to really tax and grow those shoulders. Additionally, to
help get your heart rate up and burn calories I have thrown in a
superset core exercise.

I did this workout yesterday and it rocked my shoulders! Try it & let
me know what you think!

Drop Set Shoulders Workout: 3 sets of 10 heavy/10 light

1. Shoulder Press (goal post with arms)- 30sec Mountain climbers w twist

2. Lateral raises (arm straight, slight bend at the elbow) - 30sec Walks outs

3. Upright Rows or Rear Delt Flies - 30secs of Plans/with alt shoulder taps