April 2012: Jennifer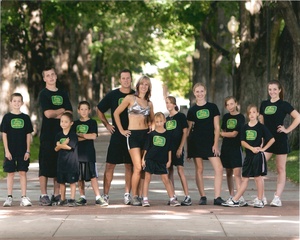 I'm 41 (or 28 for the 13th time!). Thirteen children call me "Mom," so your confusion is understandable when I tell you that, from the age of 15, I didn't think I could have children. Short story. Seven infertility surgeries and LOTS of medication later, I did have a child. It was enough of an experience that I knew if things didn't happen on their own, I'd just adopt. I grew up surrounded by dysfunction, so adopting children within social services touched an empathetic chord within me. For nine years, I was licensed as a foster parent and feel blessed that my life was touched by the children that came through my home. Seven pregnancies and a hysterectomy later, I felt contentedly done with that chapter in my life. In the end, the children I am Mommy to consist of 6 biological, 5 adopted, one foster that, lucky for me, never left but couldn't be adopted and one foreign exchange student from Germany who has never stopped being my daughter. From the scared 15-year-old at my first OB/GYN appointment wondering what was going on inside me to a now 41-year-old woman with the equivalent of a football team living in my home, I have grown considerably. Pregnancy, adoption and being a Mommy has empowered me. Doing my best every day for them as well as for myself motivates me.

Many things have kept me in physical (and mental) shape. Vanity and shallowness kick off the list in high gear. Not gonna lie, I've always enjoyed looking and feeling my best. I never believed being a Mom would hold me back from my body looking good so it hasn't. Wanting to age gracefully and stay active with my children is a close second in motivation. Staying active during and in between pregnancies allowed me to keep up, keep sane and never get discouraged. Having exercise equipment in my home when the children were small was a huge help as were using videos during naps, and a gym that would accommodate my volume of children while I snuck in some work outs. Fitness competitions motivated me for a few years as well as access to an amazing trainer who has gotten me through some nasty plateaus, but the one thing that was always a part of my life to some extent or another was running. Inexpensive, portable and done in nearly any weather running not only keeps me in good physical shape, it gives me a chance for my head to clear. It's time to think, problem solve and plan but mostly it's time for me. As a wife and mom, it's important to admit that I'll be a better wife, mom, hairdresser, friend, sister, daughter if I get time to recharge my battery.

Running is a place where I can be the diva that I am while at the same time it's perfectly natural to snot rocket, pee outside, sweat profusely and swear. I can run on bike paths, the road (which, when there's no traffic, I'll be the one running down the middle…) or trails. I allow my kids to map out routes driven by their buses to mix things up. I'm not afraid to get lost. I'm strong. I'm confident. I'm embracing being the woman that I am. I enjoy pushing myself and I adore signing up for races surrounded by like minded, healthy people. I'm proud that over the last year or so I've shaved about a minute and a half off my minute miles going from 9:30-10 minute miles now down to 8 minute miles!!! This just proves that things do indeed get better with age!
Please check out my blog: http://tuffmotherondarun.com/