June 2013: Olivia Webb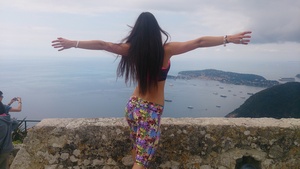 Fitness is a huge part of my life to help me feel fit and healthy. I have personal training level 3 qualification in the UK and I am also a Makeup artist for TV, film and theater.
All of my work is about looking good, feeling great and taking care of myself inside and out.
Recently I have joined the BodyRock Sport empowHer brand ambassador program, which has pushed my motivation even more to look better in the amazing sports bras increase distribution throughout the UK.
It is such an honor to work for such an amazing and innovative brand--let's not forget all the other amazing people involved in this!
My favorite workout is legs/glutes and my favorite exercise would have to be squats and glute bridges! I also really enjoy hot yoga. I find it helps me learn about my weak areas in my body.
In this photo, I am rocking The Love for All Capris and The Rosie Bra up in the hills in the south of France!