January 2012: VALERIE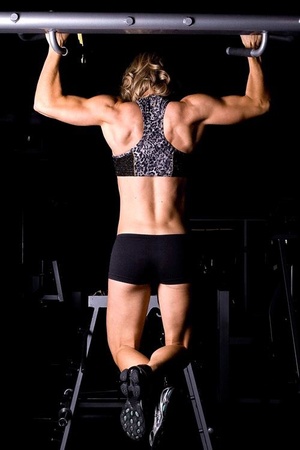 Favorite ways to rock your body: I am a 31-year-old mother of four boys and am a proud Army wife. My husband was deployed for the entire year of 2011. One of the hardest aspects of being a military wife is to learn to do things to make every day count, even while you are wishing days away during the deployments. I decided to set big fitness goals for myself to keep me busy and sane while he was away.
I got serious about strength training, and I competed in my first Figure Competition in October. 2011. I became certified as a personal trainer, and I am LOVING helping others meet their own personal goals. I also started a Facebook page and blog, Busy Mom Gets Fit, and I have been inspired an motivated by the positive feedback and interest I have recieved. It seems as though there are a lot of women out there that can relate to my journey and are searching for help . I am honored that they want to hear what I have say about working out and staying heathy despite my crazy mom life. In 2012, I'll welcome home my husband, continue to rock my body in the gym everyday, and show the Figure Competition world what moms with 4 boys look like.
How I feel empowered...
This January, 2012, I feel empowered because I have proven that I can accomplish whatever I want, despite any challenges. Not only is it empowering to be an independent woman who accomplishes goals, it is simply empowering to be strong. I love the way strength training makes me feel. I believe confidence in the weight room and confidence in your appearance enable you to exude confidence in all areas of life. I hope to inspire and help more women feel confident to pick up the free weights at their gym. I hope more women will acheive their fitness goals and feel confident enough to wear one of these BodyRock Sport bras for the world to see.

My favorite workout...
If you asked my what my favorite thing about myself is, I would say my shoulders. I love strong shoulders, and it is always my favorite workout.
I usually do 6 exercises, 2 for each part of the shoulder.
Standing dumbbell
shoulder press
Front raises with a plate
Prisoner pull on the cables for rear del
tLateral raises
Iron cross
Bent over reverse flys
PHOTOGRAPHY BY BRUCE NICHOLS