Katy Perry is a musical powerhouse and we love her in every way, not only because of her superstar status but also due to her proclivity to go against the grain by experiementing with fashion. Pink hair, anyone? Well, it just so happens that the darling Perry is a big fan of designer Julie Mollo, as she has often been seen in Mollo's fabulous denim romper. And her song "California Girl" reminds us of our SoCal roots.
The Katy Bra is made with the same denim that Julie uses for the famous romper, which she bleaches herself in her Brooklyn apartment. This amazing black and white tye-dye denim is combined with a silver zipper with shimmering gold tape, magenta power mesh lining, silver and gold studs, and The Eternal Love Zipper Puller from Knight&Hammer. Thus, The Katy Bra represents the fusion of three creative minds. Sheer brilliance if we must say so ourselves.
As Katy said, "Honey, I am the chief of my train. If critics want to hop on board, fantastic. There's plenty of room. The KP train is fun." Keep doing you, girlfriend.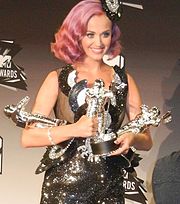 Please allow 3-5 weeks for delivery. If you would like a differnet colorway, please contact us at [email protected] and we will create your masterpiece.